Let's face it, nothing beats the thrill and joy of the holiday season! So what happens when you put a few dozen kids in a room with giant kids playing basketball? Magic. This is what is happening. Lots of magic.
The Dallas Mavericks turned the Mavs Gaming Hub into a winter wonderland on Thursday, and for a second everyone forgot about the 80-degree humidity outside. It was festive and bright and really, really joyful (and LOUD, in the most glorious way possible)!
This year Mavs cookies with Santa Claus, presented by Jefferson Dental & Orthodontics, was a celebration from start to finish with lots of games, holiday crafts, cookies, and thoughtfully designed keys to make you laugh.
More than 50 disadvantaged children from Alcove Vogel and Children-U arrived to spend the afternoon with the Mavs. Each child received a gift bag full of surprises (more on that later), and Jefferson Dental also connected the youngsters with dental kits to keep those smiles bright.
CEO of Dallas Mavs Cynt marshall and the The Dallas Mavs team soon arrived, decked out in bright blue Santa hats and big, cheerful smiles. Of course, the main attraction – Mr. Santa Claus himself – was also present and the kids were delighted to spend some one-on-one time with him.
The Mavs' annual Cookies with Santa event looked slightly different this year due to NBA health and safety protocols. The players couldn't interact so closely, but everyone made the most of it and it was a beautiful and special day for all the kids and Mavs. After all, it is the most beautiful time of the year!
HERE IS A SNAPSHOT OF OUR FAVORITE MOMENTS…
THE DALLAS MAVERICKS 2021-22 TEAM
Can we applaud our extraordinary, committed and servant leaders of the Dallas Mavs? Despite a busy game and travel schedule this month, the men still showed up to give back to the community that adores them. The players were like proud big brothers watching the children open their presents. They sat next to Santa and made sure everyone was having fun.

THE VIPs (VERY, VERY IMPORTANT, PRECIOUS, AMAZING CHILDREN)
More than 50 special children from Vogel Alcove and Kids-U came by bus to the event. Just to put the preparations in perspective: The Dallas Mavs Community Relations team gets a wish list from every child, and they make purchases for all of the kids. It's a powerful business, but something the Mavs do with absolute joy and excitement. Each child receives gifts worth approximately $ 250. It is important for these children because they come for circumstances which are not always the best. The Mavs have created a day for each child to make their wishes come true.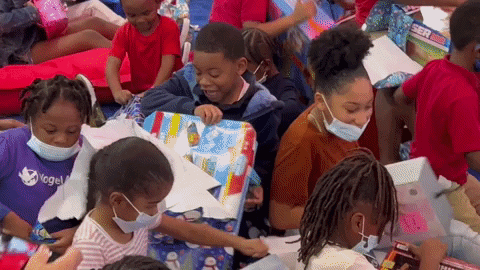 THE MAVS GAMING HUB WAS 'POPPIN
If you've never seen the Mavs Gaming Hub, then this is a sight to see. The facility has all the latest tech gadgets and video games, and the space is simply large, bright, and inviting. This year, the events and community team created stations for all children. They had a space to write letters to Santa Claus, another space to color dollhouses, giant blocks and toys to build tall towers and arcade games to play whatever their hearts desire!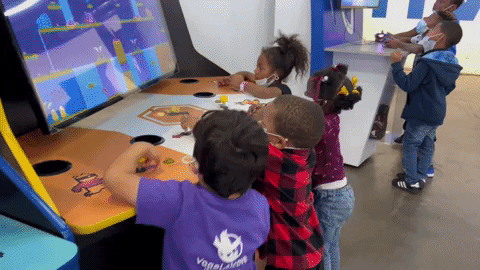 MAY I INTRODUCE A 7-FEET-4 GUY HOLDING TOOTHBRUSH…
Each year the Mavericks, with the generous support of companies like Jefferson Dental & Orthodontics, come together to create a winter wonderland full of surprises and gifts for at-risk children. Boban particularly likes the toothbrush which he says is just the right size!
FATHER CHRISTMAS READING 'IT WAS THE NIGHT BEFORE CHRISTMAS

RENAME THIS TIM HARDAWAY JR. THE WEEK
Tim Hardaway Jr. said this week with the kids was "magical" and we feel the same because of him! Timmy invested a lot of time, hours and money this week giving back to the kids of North Texas. After Monday's game, he welcomed children from Bridgebuilders and spent time with them after the game against Charlotte. Then on Tuesday, the Mavs guard / front surprised two families and paid their rent. On Wednesday he played a game, and today he was back with the Cookies with Santa community team. Two shots for Tim and his fabulous packaging skills!

TALKING ABOUT PACKAGING SKILLS…??
Santa and his elves tell us that Tim was the best and the most meticulous of packaging, and he also picked the bigger toy. Meanwhile Josh Green struggled and asked for help, but he loved picking the bow!
TOP FUNNY MOMENT: BOBAN BE BOBAN
Do you know that kid in class who is always very strong when the teacher is talking? It was Boban. Perhaps the funniest moment of the night happened when Santa Claus read "It was the night before Christmas". Boban was so excited that he started telling another side story about Santa Claus. Meanwhile, KP was glancing sideways at him. It was a rare glimpse of what a movie theater or a plane trip might look like with Boban, who is adored and loved by young and old alike.
MAGNIFICENT
Dallas Mavericks CEO Cynt Marshall is the first black woman to lead an NBA franchise, and she is a phenomenal leader and representative of the franchise. This week she took another special milestone when she turned 62! Every birthday is a wonderful and special celebration for Cynt. Cancer once threatened her life and now she turns the calendar with great joy. "I am proud of each birthday and to live one more year," she tells us enthusiastically. Each year Cynt makes sure to attend countless community events and she always arrives early at Cookies with Santa. She adores little "honeys" and has a mighty heart for the children of North Texas. Another favorite moment of ours was the letters to Santa! The event had two stations for coloring and writing letters to Santa, then mailing them out just in time for Christmas!
ANOTHER TOP MOMENT – COOKIES WITH SANTA DECOR!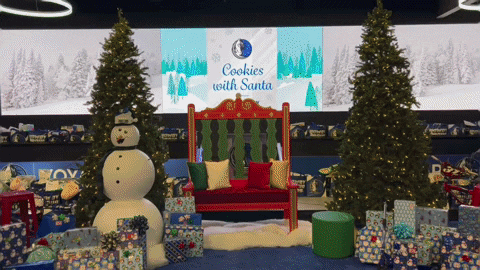 DINNER TO GO! KIDS LOVE THEIR CANE CHICKEN FARM. SO. TO DO. WE.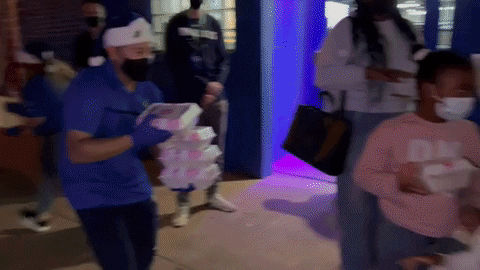 MAVS COMMUNITY RELATIONS AND EVENTS TEAM
This is the team behind the team. Weeks before Cookies with Santa, the Mavs community team sets out to shop for every child. Then they wrap all these gifts. So when the time comes for the kids to unwrap the gifts, it's a special time for them to see all the excitement! Discover all the bikes and gifts …
AND FINALLY – OUR TOP MOMENT OF THE YEAR IS – TO BE TOGETHER!
Even though we have remained socially distanced this year, the event was still special for all to be under one roof. There is so much good in the world and we see it every day with the Mavericks. The NBA Season of Giving is always important to the Dallas Mavericks, and our goal is to reach more kids in the most impactful way every season.
From the Dallas Mavs family to yours, we wish you a great vacation!