The new year and new lunch ideas are on my to-do list right now. We really eat with our eyes, so spin the food color wheel a bit. It is useful to note all the vegetables and fruits of different colors that are in season, which we can add to our lunches – you will be surprised by the list and it will make your shopping easier!
Roasted vegetables like orange or red peppers with zucchini and carrots make a delicious base for salads or a pasta gratin. Serve bright green salsas with your omelets or frittata or spoon sun-dried tomatoes and chopped olives over your healthy homemade soups.
These are just a few simple ideas to brighten up your lunches and make them even healthier.
Good food !
Katherine
www.ballyknocken.com
How to add color to your lunches:
* Add roasted sweet potato slices to lentil salads.
* Incorporate a small amount of turmeric when cooking cauliflower or potatoes to prepare salads. This gives a nice warm hue to otherwise pale vegetables.
* Use red rice and add chopped fresh herbs like flat-leaf parsley, mint and sage.
* Use a combination of shredded red cabbage and savoy cabbage to liven up your salads.
*Choose a variety of cherry tomatoes, the purple, yellow and red ones are always beautiful.
* Incorporate sliced ​​roasted red and yellow peppers into grain-based salads.
* Create a spark of color by adding pickled red onions to your meal.
* When making hummus, use beets for a big color change!
* Steam purple broccoli and add it to your rice salads with seedless red grapes and lots of orange zest.
Ginger Game Changer:
I love adding fresh ginger to my cooking and it couldn't be easier with this little gadget. Cleaning it is a stress-free job and they don't take up space in my kitchen drawer.
GingerCard, €5.95 + postage, thekitchenwhisk.ie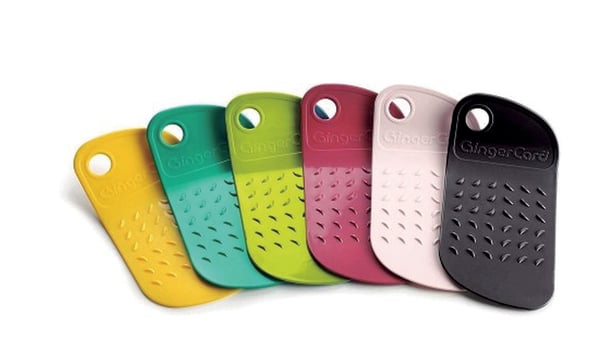 Quinoa with roasted butternut squash, chorizo ​​and spinach salad
This salad is delicious served warm or cold. It's great for packing for a picnic or getting to work if you're heading that way. Add a teaspoon or two of mixed seeds on top for extra crunch and nutritional value.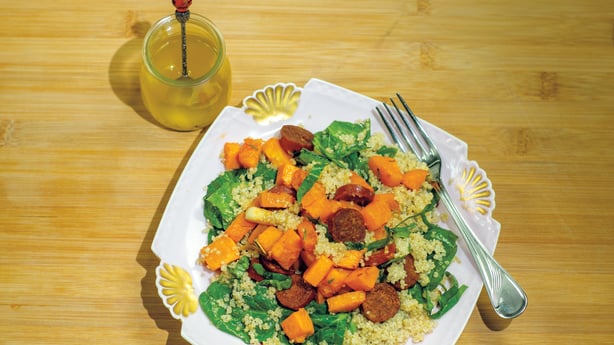 Serves 4
For the roasted butternut squash
400g peeled and diced butternut squash
2 garlic cloves, sliced
5 small sprigs of rosemary
1 tablespoon olive oil
80g diced chorizo
For the salad
300g hot cooked quinoa
60 g baby spinach
For dressing
2 lemons, juice and zest
5 tablespoons canola oil
1 teaspoon of sugar
½ teaspoon paprika
Salt and freshly ground black pepper
Preheat the oven to 190°C/170°C convection/gas 5.
Line a baking sheet with parchment paper.
Place the butternut squash, garlic cloves and rosemary on the tray and drizzle with a little olive oil. Mix and roast for 20 minutes before adding the diced chorizo. Roast for another 15 minutes or until the chorizo ​​is crispy and the butternut squash is cooked through.
To make the vinaigrette, combine all the ingredients and whisk well.
To assemble the salad, toss the cooked quinoa and spinach leaves together. Add the roasted butternut squash and the chorizo. Drizzle with some of the dressing and serve the rest in a pitcher on the side.
Spicy parsnip and carrot soup
A true classic to prepare and always a winner for families. Freeze batches when life starts to get hectic and you need that hot, healthy lunch. Reduce the curry powder if you don't like the spice too much.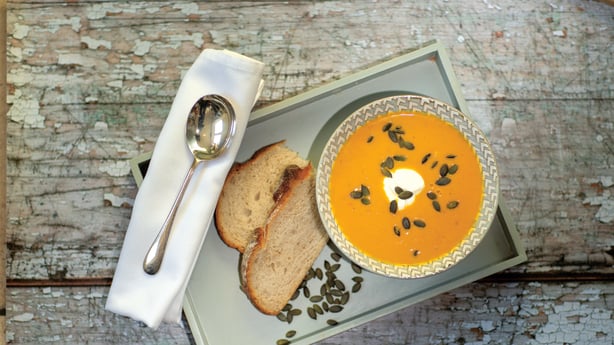 Serves 4 (makes about 1.2 liters)
For the soup
1 tablespoon olive oil
3 shallots, finely chopped
2 cloves of garlic, finally minced
½ to ¾ teaspoon mild curry powder
½ teaspoon ground cumin
½ teaspoon ground coriander
200 g parsnips, coarsely chopped
300 g coarsely chopped carrots
1 apple, diced
800ml chicken or vegetable stock
Salt and pepper, season
Yogurt, for serving
Pumpkin seeds, for garnish (optional)
To make the soup, heat the oil in a large saucepan over medium heat. Add the shallots and sauté for 4 minutes, add the garlic and cook for 1 minute, stirring occasionally. Season with salt and pepper.
Stir in ground cumin, ground cilantro and chopped parsnips, carrots, diced apples and broth. Bring the soup to a boil, then reduce the heat and simmer for 20 to 25 minutes, or until the vegetables are tender.
Remove from the heat and carefully pour the soup into a blender to puree until smooth.
Return to pan and check seasoning again, adding salt and freshly ground black pepper if necessary.
Pour into soup bowls, add a dollop of yogurt and a pinch of pumpkin seeds if using.