As the end of 2021 approaches, here are some fun facts about what Malaysians looked for in Google search. Since we are a tech news portal website (again we are not a store lol), we will be looking carefully at Top Trending Searches in Gadgets and Devices This Year.
In 2021, the realme 8 Pro took the first place in the most wanted gadgets. The phone was released in late April priced at RM1299, with a 108MP quad rear camera, 50W SuperDart Charge, and other specs. As a mid-range phone using a Snapdragon 720G chipset, its overall specs aren't that bad, which might explain why many Malaysians have knocked in "realme 8 Pro Malaysia".
Other than that, Apple topped the rankings with three iPhone searches this year. The iPhone 13 and iPhone 13 Pro Max took second and fourth place respectively. Interestingly, Malaysians were also looking for the iPhone 12 Pro Max, which is still a powerful flagship. The OnePlus 9 is also another flagship that Malaysians researched with "OnePlus 9 Malaysia Review".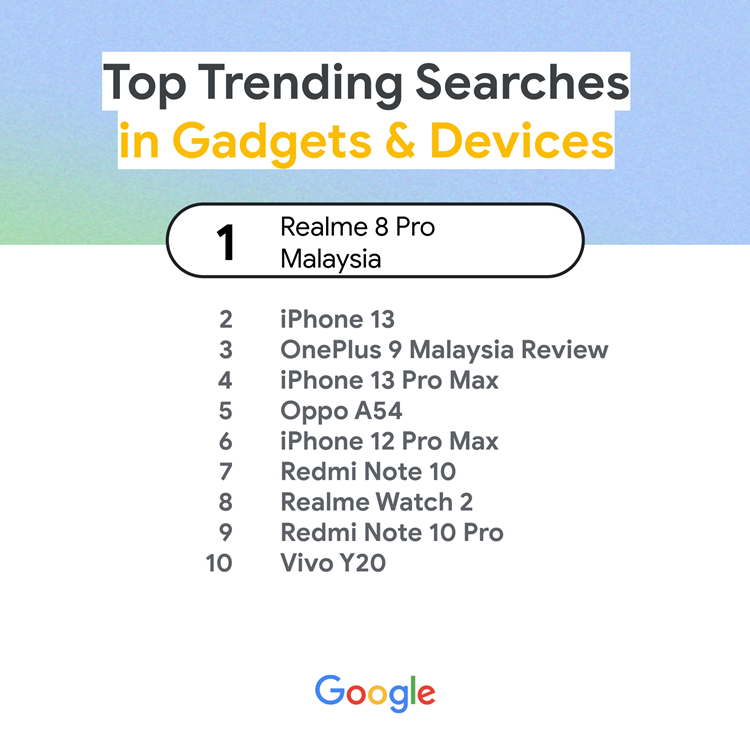 As for the rest of the entrances, economy phones are still a favorite among Malaysians. The OPPO A54, Redmi Note 10, Redmi Note 10 Pro and vivo Y20 have appeared quite frequently in Google search, alongside the realme Watch 2 as the only wearable accessory and non-smartphone device at number 8.
Google Malaysia has also sent us other notable top trending searches over the past year. If you're interested, you can head over to our news article right here to check them out. Stay tuned for more tech news on TechNave.com.