Apple and Samsung have always been top dogs in the smartphone market, and the latest iPhone 13 Pro Max and Galaxy S22 Ultra continue to build on that tradition. Both of these flagships offer pro-grade cameras, huge screens, and some of the best performance you'll find.
Of course, one is a perfect match for Apple's vast ecosystem, with its brethren the flagship iPhone 13 Pro (which comes with the exact same specs as the larger Pro Max), and the other is an Android powerhouse with an S Pen and even more massive screen. To help you choose, we break down each device so you can make a smarter buying decision.
For the very first time, Samsung is including an S Pen stylus that stores inside a Galaxy S device. The Galaxy S22 Ultra comes with the familiar Note feature that many have missed, and if you're one of those people , this is the phone for you. The iPhone 13 Pro Max is not compatible with any type of Apple-branded stylus.
Samsung is adding all the usual S Pen goodies like quick notes on the lock screen, special action menus, and Bluetooth controls for the camera shutter, among other things. It also offers the best writing experience of any S Pen to date.
Samsung always offers impressive display technology on its phones, and the Galaxy S22 Ultra is no exception. With its large 6.8-inch footprint, the S22 Ultra features a Dynamic AMOLED 2X panel with Quad HD+ resolution, delivering punchy colors and truly impressive contrast.
Its 120Hz refresh rate keeps everything smooth, and the 240Hz touch sampling rate means touch interactions will be instantaneous. It will likely be perfect for gaming on the go. And with a peak brightness of 1,750 nits, it gets considerably brighter than the iPhone 13 Pro Max, which tops out at 1,200 nits.
The S22 Ultra is one of the best phones you can buy if you're looking for a great display. Everything from movies to games to social media will look fantastic. And while the iPhone 13 Pro Max still has a great display, the S22 Ultra is noticeably more impressive and eye-catching.
One of the best ways to use the Galaxy S22 Ultra's large screen is to multitask, and Samsung makes it effortless. Many software tools are pre-installed on the device, such as split-screen support, app windows, Edge menus, and app pairs. It makes the job much easier.
The iPhone 13 Pro Max falls short of the S22 Ultra when it comes to productivity. Apple includes hardly any multitasking tools in iOS, so you're constantly forced to switch between full-screen apps if you're multitasking. Samsung's phone is way ahead in this category, bar none.
The latest generations of Samsung's flagship Galaxy S phones have offered a feature that many competitors have failed to keep up with: Space Zoom. Using a periscope-like telephoto lens and special software techniques, Samsung's devices are able to zoom much further than any other phone.
In the case of the Galaxy S22 Ultra, Space Zoom lets you get a wild 100x zoom. On the iPhone 13 Pro, you're stuck with a measly 15x zoom using the 3x telephoto lens and Apple software. So if getting as close to your subjects as possible is important, you'll definitely want the S22 Ultra.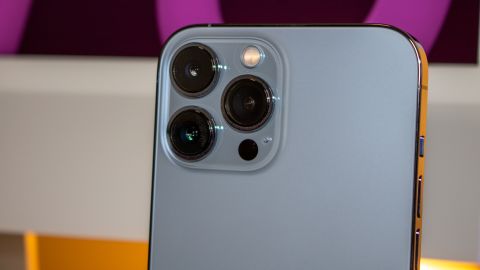 Jacob KrolCNN
This point seems obvious, but it's the biggest differentiator between the iPhone 13 Pro Max and the Galaxy S22 Ultra. The first runs iOS; the latter runs on Android. If you're already in Apple's ecosystem (say, you own a Mac, Apple TV, or AirPods), it makes sense to consider the iPhone 13 Pro Max. It will seamlessly integrate with the rest of your devices and provide a seamless experience on all of them.
For years, Apple has led the smartphone industry in videography, and the iPhone 13 Pro Max only reinforces that. The device still reigns supreme over the Galaxy S22 Ultra with its reliable stability, accurate color reproduction and overall clarity.
Coupled with various pro-grade features such as cinematic mode, macro videography, and ProRes support, it's clear that the iPhone 13 Pro Max is still the smartphone to buy if you plan to shoot a lot of video. Just make sure you get one with enough storage.
The Galaxy S22 Ultra has robust specs, with the all-new Qualcomm Snapdragon 8 Gen 1 at its heart. While that's enough power for virtually any user, there's no denying that the 13 Pro Max and its A15 Bionic processor still manage to outperform most devices you compare it to. It powers through games and multitasking between apps, and it keeps up with heavier apps like video editing. It's also a master of efficiency, giving the iPhone 13 Pro Max some of the best battery life you can get on a phone.
Both of these phones are expensive, big, and fast, and take great photos. However, certain qualities make them better suited for different types of people.
The iPhone 13 Pro Max is a powerful addition to any Apple user's arsenal with its larger screen, impressive performance, pro-grade photography tools and excellent battery life. Meanwhile, the Galaxy S22 Ultra is a productivity machine with its included S Pen, an even larger edge-to-edge display, various multitasking features, and impressive photography capabilities.
No matter what you decide, Apple and Samsung are at the top of their game in the smartphone department, and you can't go wrong with either device.
Specifications of iPhone 13 Pro, iPhone 13 Pro Max and Samsung Galaxy S22 Ultra

| | | | |
| --- | --- | --- | --- |
| Starting price | $999 | $1,199 | $1,199 |
| Display | 6.1-inch Super Retina XDR display with ProMotion | 6.7-inch Super Retina XDR display with ProMotion | 6.8-inch Dynamic AMOLED 2X display with 120Hz refresh rate |
| Processor | A15 bionic | A15 bionic | Qualcomm Snapdragon 8 Gen 1 |
| Storage | 128 GB / 256 GB / 512 GB / 1 TB | 128 GB / 256 GB / 512 GB / 1 TB | 128 GB / 256 GB / 512 GB / 1 TB |
| Cameras | 12-megapixel telephoto, 12-megapixel ultra-wide, 12-megapixel wide with flash (rear); 12 megapixel camera (front) | 12-megapixel telephoto, 12-megapixel ultra-wide, 12-megapixel wide with flash (rear); 12 megapixel camera (front) | 12-megapixel ultra-wide, 108-megapixel wide and 10-megapixel dual-telephoto with flash (rear); 40 megapixel camera (front) |
| Drums | 3095mAh | 4352mAh | 5000mAh |
| Height and weight | 2.82 x 5.78 x 0.30 inches; 0.44 pounds | 3.07 x 6.33 x 0.30 inches; 0.53 pounds | 3.06 x 6.42 x 0.35 inches; 0.50 pounds |