I look back on the first year with many different thoughts.
Could I have tried harder with my grades? Could I have diversified more? Could I have let my actions sink deeper?
Like many freshmen, I left this year with great regret, wishing I could change the outcome. I ended up having a reality check that summer. There was a reason I came to OU, and there was a reason I was going to end up at OU. After all, OU was the only school I applied for.
At Bartlesville High School, I was the photographer. Every Friday Night Lights I was out in the field with my trusty Canon 5D and 70-200 lens. I was determined to become a public relations specialist at OU, join Gaylord College after attending their lectures for four years, and get into journalism. A tough shift in perspective with my high school job that revolved around IT, eventually led me to pursue Management Information Systems (MIS). I was going to be a business student.
My story at The OU Daily started in the spring of 2020. I was a sophomore in the second semester and I thought, 'I always see that name Caitlyn Epes in the caption of those super cool football photos – I wonder what is it about. ." It was a cold Tuesday morning in January when I walked into the Jenkins parking lot office for an article about their new gadget.
So, we all walked out to a parked car to see this big yellow sucker on the windshield of a car, the infamous Barnacle. I took a picture while he explained the device and carried on with the rest of my day, with nothing much.
On Thursday morning, I received a message from Caitlyn, then our visual editor, on Slack that said, "Hey, just to let you know your photo is going to be used by BBC world news in their online story."
So I started on Monday and Thursday, my photo was picked up by a global media. It was quite a surreal experience.
From then on, I was so keen to take on all the missions I could, which got me into some trouble, but it was worth it. I remember I had my first athletic assignment, shooting women's basketball, and I thought, for the first time, that I had done pretty well. Little did I know that two days later Caitlyn would be bitching at me for not cropping her upper body and using a few slightly out of focus photos.
This was perhaps the best way to learn: get your ego checked on Hypothesis (an annotation tool) and improve as much as you can.
Then it all came to an abrupt end with COVID-19, just after accepting a paid position. I felt like my hands were tied behind my back, but doing a photo essay helped alleviate that. Leaving in the fall as an assistant visual editor, there were a lot of challenges. Dealing with a small visual staff and trying to get credentials for any event, let alone two, was like pulling teeth due to all the restrictions. Being in the newsroom with the sports team and spending five meal shots on canes or sneaking up to the top of the stadium to get some wild shots was all worth it.
National championships are something else to cover. You have the beautiful air-conditioned arenas as in the case of the national women's gymnastics championship. On the other hand, the scorching heat of an Oklahoma City summer covering the Women's College World Series and seeing OU come a long way to win it all. These are moments that I cherish.
Finally, getting to football season last fall was worth it. I had a mantra that I was going to take a picture on Owen Field during a football game. Did I know how? Certainly not, but I was finally able to live my dream. The things I learned on that court and in the press room while munching on a Chick-fil-A cookie at 9 a.m. will be etched in my memory forever. Also, climbing into the upper nooks and crannies of the stadium covered in dust, hitting my head several times, and climbing about eight ladders was an experience to get the photo below.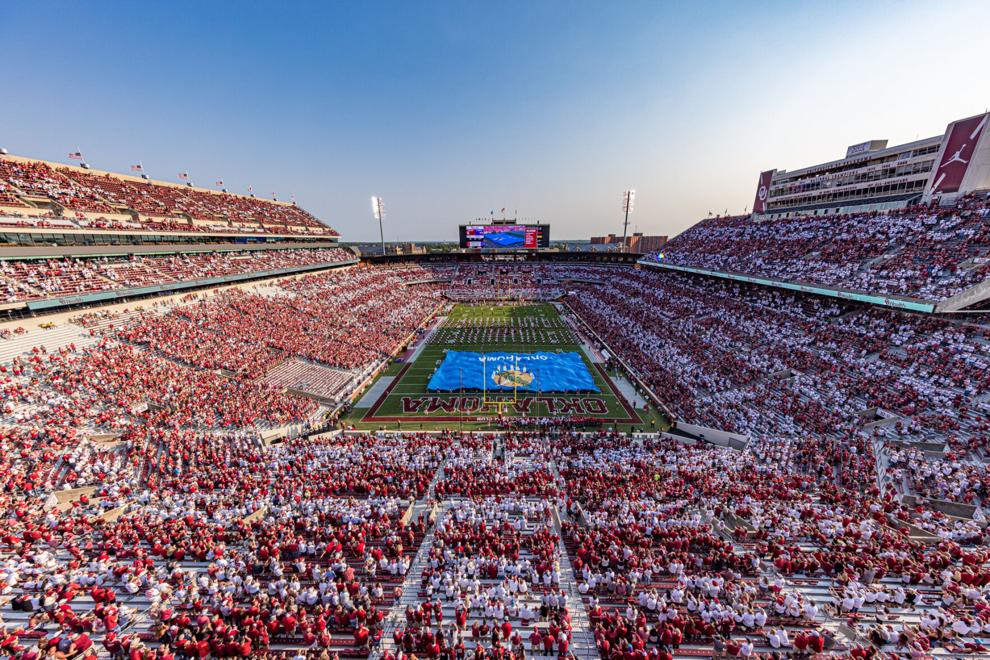 The OU Daily is a special place, I learned very quickly that you get what you put in. I thought I was going to be alienated as a business major because I wasn't at Gaylord. I couldn't have been made more welcome. The UO Daily gave me a voice. It gave me the freedom to express my creativity, it gave me lifelong friends, and it gave me a home.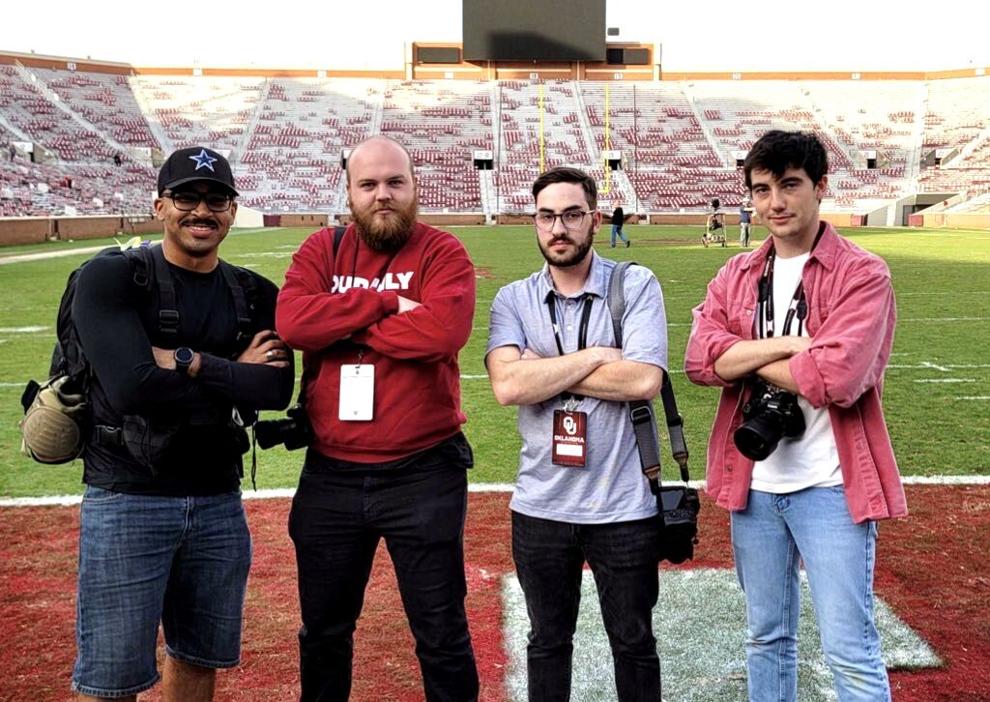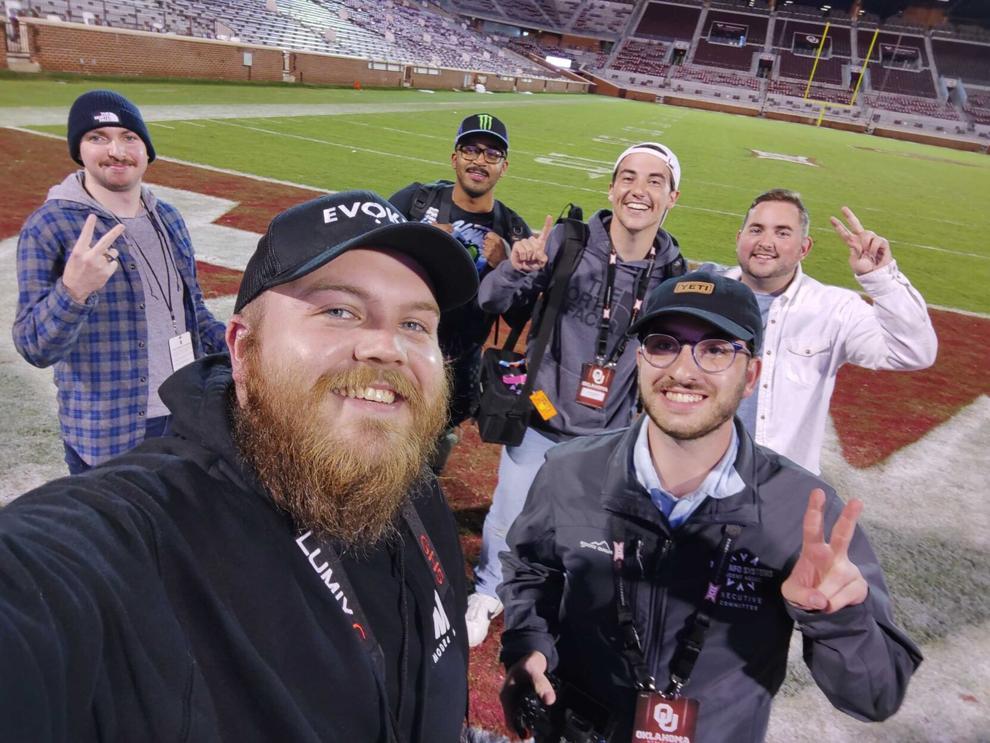 I can't really imagine where I would be without being part of the Daily. I am so happy to have taken the leap into the unknown. Although this semester was less involved for me due to my computer work, it was so great to stay in the action until the end. It's bittersweet to say my last goodbye, but I'm so happy to see how I left this organization and the wonderful things that will be created after my time.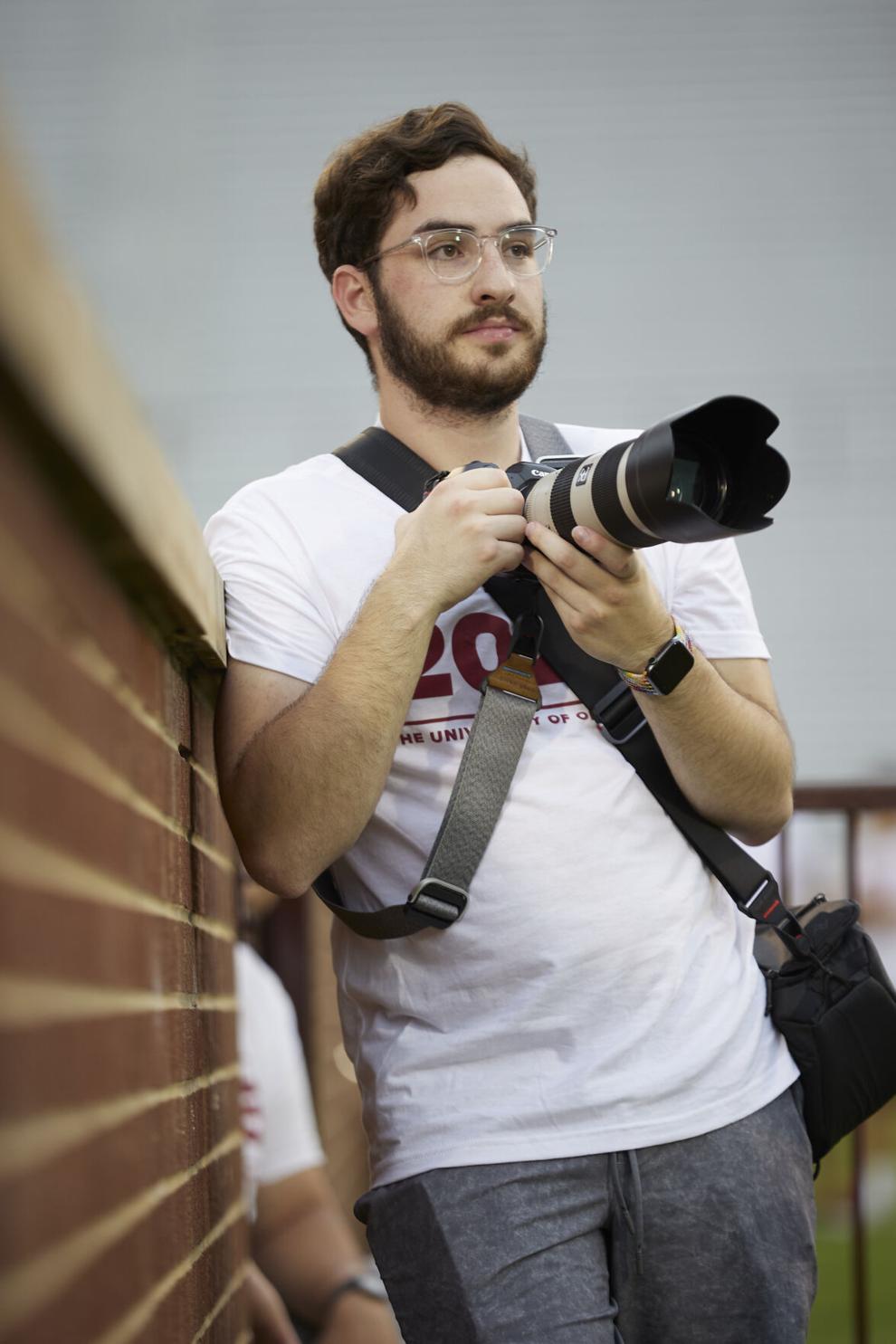 To my dear friend and visual editor Trey Young: Since day one, you've been by my side, and I wouldn't be where I am today without having you to brainstorm ideas and learn from. The photographic adventures we had, how you taught me to step out of my comfort zone, and our friendly rivalry are what kept me coming back.
I will miss so many people on the Daily. I will miss chasing big-j journalism with Blake Douglas, football games with Mason Young, Chandler Engelbrecht and Austin Curtright, learning videos with Justin Jayne and Collin McDaniel and working with the incredible visual team including Ray Bahner and Shelby Reasor. I couldn't be who I am today without all these amazing people.
Finally, to Seth, a man who will drop anything and everything to help you achieve your goals: thank you for letting me talk in your office for hours and giving me some of the best life advice that I have ever received. The support I have received in my career endeavors and working with me to develop my abilities is second to none. Being devastated by comments on my photos allowed me to discover things that I would never have thought of. I'm glad I was able to use my GIS skills and be the press room technician. Seth has always been careful not to overstep our independence, but he still sometimes found the little push you needed.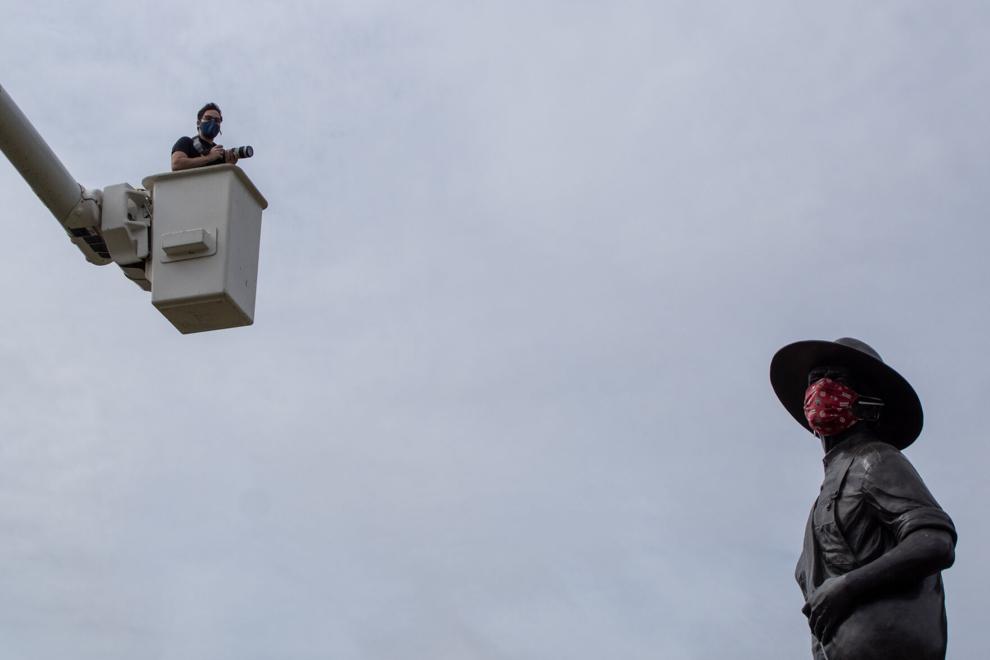 I know I'm leaving the visual desktop in good hands and I couldn't be more excited to see the future of OU Daily. The Daily is number one for a reason, and it's only from here. If you think about it, the things you create might surprise you. I've learned that you don't have to be a Major Gaylord to succeed here – all are welcome and appreciated.
Even though I don't pursue a career in journalism after graduation, I made my story here and I come away with so much. What a trip it has been. College is a place to find your passion, and I'm so glad I found mine.
---
Edward Reali started as a photo intern in spring 2020, was a junior photographer, then assistant visual editor fall 2020 – spring 2021, chief visual editor summer 2021, assistant visual editor fall 2021, photographer spring 2022. He graduated in Management Systems information at the Price College of Business.